Home Extensions


Home Extension services in Crawley and surrounding areas including Horsham and East Grinstead
Extensions are a fantastic way to expand the available space in your home as well as increase the overall value of your property. At Madeley Design and Build, we work closely with our clients to ensure that we stay on track with our client's vision for their ideal home. We have over 20 years of experience in the building industry and creating beautiful home improvements.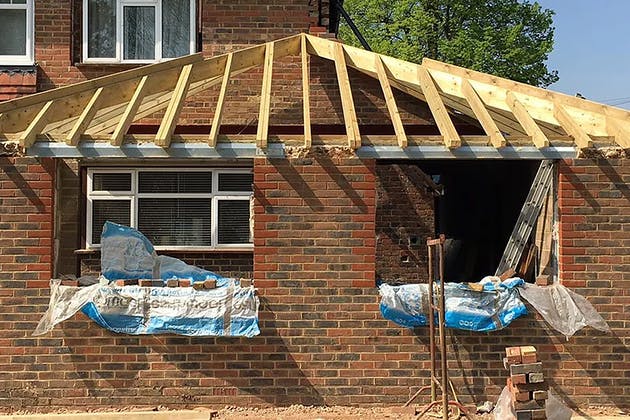 We're proud members of Checkatrade
Checkatrade is a trade database designed to take the work out of finding trusted, reviewed and recommended tradespeople. As members you can be sure that you are opting for a reliable building company to take on your home extension.

Want to get in touch to start your home extension project? Contact Madeley Design & Build by calling 07935 882 285 or selecting the button below to reach our contact page.
Your home extension journey with Madeley Build & Design
Getting an extension with us is an exciting and stress-free process! Below we've detailed what your home extension journey will look like:
Working with you to establish an idea for your home extension
Working closely with you, we will put together a solid initial idea that meets all of your needs for your home extension project. We will help you decide on what type of extension will work best for you and your home based on factors like available space and the floor plan of your home.
Types of extensions that we build:
Rear Extension
Front Extension
Wrap Around Extension
Single and Multi-Storey Extensions
Planning your home extension
After you are happy with your initial idea, we will start planning our approach to your project. Ensuring that our work is as non-disruptive as possible to you/your family's daily routine. We make sure that everyone on board is happy with the plan before we move on to building work and finishing touches.
Building work and Finishing touches
At this stage, our building professionals will get started on creating your perfect extension using top quality materials designed to last. We only ever use vetted and trusted subcontractors when required.
Choose Madeley Design & Build for a reputable and faultless service
It goes without saying that it is very important to opt for building experts when it comes to large projects like home extensions. Over years, Madeley Design & Build have gained an outstanding reputation for the work we carry out, by not only delivering a stunning finished product but also our collaboration with our customers to make sure every inch of their extension is completed to your specifications. When we take on extension projects - we make sure that you are our main focus and only take on 1 large scale project at a time.
Get in touch with Madeley Design & Build to get started on your home Extension in Crawley
Call Madeley Design & Build today on 07935 882 285 or get in touch by visiting our contact page. For email communications contact us at enquiries@madeleydesignandbuild.co.uk and we'll be back in touch.
Not in Crawley? We also cover the wider surrounding areas such as Horsham and East Grinstead. The team at Madeley Design & Build are looking forward to getting started on your project.